One Piece Vol. 3: Don't Get Fooled Again (Manga) (Books)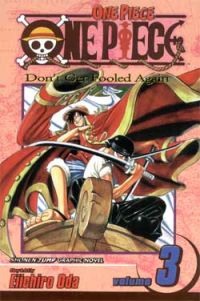 Manufacturer: Viz
Item Code: 1591161843
UPC: 9781591161844
Author: Eiichiro Oda
S.R.P.: $9.99
Request this item from your local retailer!

The super-powered pirate showdown continues, with Monkey D. Luffy's rubbery limbs tested to their limit against the fiendish Captain Buggy's Chop-Chop powers. Worse, Captain Buggy reveals an unexpected connection between himself and Luffy's long-lost hero, Captain "Red-Haired" Shanks. Meanwhile, Luffy and his tiny crew must endure the Trial of the Forest on a remote jungle island if they hope to find the elusive One Piece.
ONE PIECE ©1997 by EIICHIRO ODA/SHUEISHA Inc.
Tracks