Dragon Ball Z Vol. 15 (Manga) (Books)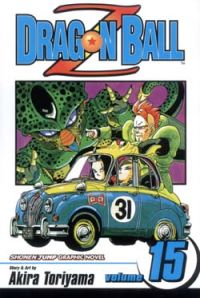 Manufacturer: Viz
Item Code: 159116186X
UPC: 9781591161868
Author: Akira Toriyama
S.R.P.: $9.99
Request this item from your local retailer!

The Terror of Cell
Cell has been awakened - a bio-engineered monstrosity designed to ecome the ultimate weapon, a being that eats whole cities to grow stronger. To stop its rampage, Piccolo challenges Cell while the Super Saiyans undergo unimaginable training in a roomwhere one year passes for every day outside. But Cell's true goal is to merge with Androids #17 and #18, which will increase its strength exponentially. As Cell becomes ever stronger, Piccolo has only one chance: destroy #17 and #18 before Cell can merge with them, or no force on earth will stand a chance!
DRAGON BALL ©1984 by BIRD STUDIO/SHUEISHA Inc.
Tracks