Dragon Ball Vol. 15 (Manga) (Books)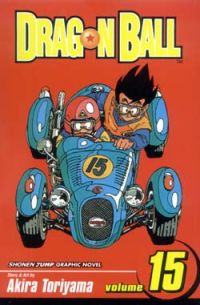 Manufacturer: Viz
Item Code: 1591162971
UPC: 9781591162971
Author: Akira Toriyama
S.R.P.: $9.99
Request this item from your local retailer!

The Titanic Tournament
It's the "Strongest Under the Heavens" martial arts tournament, and the world's greatest fighters have gathered! But Kuririn, Goku, Tenshinhan and Yamcha face mighty enemies. Taopaipai the assassin has returned as a cyborg - and Goku and Tenshinhan are on his hit list! A mysterious young woman has a grudge against Goku. The only "mystery" about bumbling Shen is how he made it to the final rounds. And the last contestant is the new and improved Piccolo, for whom the championship is just a stepping stone to take over the world...
DRAGON BALL ©1984 by BIRD STUDIO/SHUEISHA Inc.