NOTICE
Novel Corona 2020
| | |
| --- | --- |
| Nov. 26, 2020 | AAA Anime Inc. will be CLOSED on Thursday in observance of Thanksgiving. |
| Dec. 24-25, 2020 | AAA Anime Inc. will be CLOSED on Thursday and Friday in observance of Christmas Eve and Christmas Day. |
| Jan. 1st, 2021 | AAA Anime Inc. will be CLOSED on Friday in observance of New Years Day. |
| UPS Holiday Schedule Notes | UPS Guarantee is suspended for all UPS Ground shipments picked up or scheduled for delivery Nov. 29 - Dec. 24. |
Bleach Vol. 2 (Manga) (Books)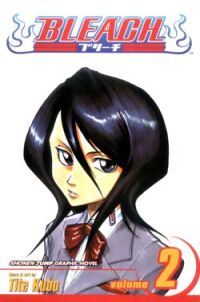 Manufacturer: Viz
Item Code: 1591164427
UPC: 9781591164425
Author: Tite Kubo
S.R.P.: $9.99
Request this item from your local retailer!

Immediately after checking into the Kurosaki Clinic with a mysterious scar on his back, the muscle-bound Chad goes AWOL. Accompanying Chad is a talking parakeet imbued with the soul of a young boy named Yuichi. It doesn't take newbie Soul Reaper Ichigo Kurosaki long to surmise that a Hollow must be involved. By far the strongest spirit he's faced to date, Ichigo is about the discover that not every soul is bound for the Soul Society, especially if it's tainted with innocent blood.
BLEACH © 2001 by TITE KUBO/SHUEISHA Inc.
Other products for "Bleach" in "Books"

Bleach Omnibus Vol. 1 (Manga)

Bleach Omnibus Vol. 2 (Manga)

Bleach Omnibus Vol. 3 (Manga)

Bleach Omnibus Vol. 4 (Manga)

Bleach Omnibus Vol. 5 (Manga)

Bleach Omnibus Vol. 6 (Manga)

Bleach Omnibus Vol. 7 (Manga)

Bleach Omnibus Vol. 8 (Manga)

Bleach Omnibus Vol. 9 (Manga)

Bleach Omnibus Vol. 10 (Manga)

Bleach Omnibus Vol. 11 (Manga)

Bleach Omnibus Vol. 12 (Manga)

Bleach Omnibus Vol. 13 (Manga)

Bleach Omnibus Vol. 14 (Manga)

Bleach Omnibus Vol. 15 (Manga) (Vol. 43, 44 & 45)

Bleach Omnibus Vol. 16 (Manga) (Vol. 46, 47 & 48)

Bleach Omnibus Vol. 17 (Manga) (Vol. 49, 50 & 51)

Bleach Omnibus Vol. 18 (Manga) (Vol. 52, 53 & 54)

Bleach Omnibus Vol. 19 (Manga) (Vol. 55, 56 & 57)

Bleach Omnibus Vol. 20 (Manga) (Vol. 58, 59 & 60)

Bleach Omnibus Vol. 21 (Manga) (Vol. 61, 62 & 63)

Bleach Omnibus Vol. 22 (Manga) (Vol. 64, 65 & 66)

Bleach Omnibus Vol. 23 (Manga) (Vol. 67, 68 & 69)

Bleach Omnibus Vol. 24 (Manga) (Vol. 70, 71 & 72)

Bleach Omnibus Vol. 25 (Manga) (Vol. 73 & 74)

Bleach Vol. 1 (Manga)

Bleach Vol. 3 (Manga)

Bleach Vol. 4 (Manga)

Bleach Vol. 5 (Manga)

Bleach Vol. 6 (Manga)

Bleach Vol. 7 (Manga)

Bleach Vol. 8 (Manga)

Bleach Vol. 9 (Manga)

Bleach Vol. 10 (Manga)

Bleach Vol. 11 (Manga)

Bleach Vol. 12 (Manga)

Bleach Vol. 13 (Manga)

Bleach Vol. 14 (Manga)

Bleach Vol. 15 (Manga)

Bleach Vol. 16 (Manga)

Bleach Vol. 17 (Manga)

Bleach Vol. 18 (Manga)

Bleach Vol. 19 (Manga)

Bleach Vol. 20 (Manga)

Bleach Vol. 21 (Manga)

Bleach Vol. 22 (Manga)

Bleach Vol. 23 (Manga)

Bleach Vol. 24 (Manga)

Bleach Vol. 25 (Manga)

Bleach Vol. 26 (Manga)

Bleach Vol. 27 (Manga)

Bleach Vol. 28 (Manga)

Bleach Vol. 29 (Manga)

Bleach Vol. 30 (Manga)

Bleach Vol. 31 (Manga)

Bleach Vol. 32 (Manga)

Bleach Vol. 33 (Manga)

Bleach Vol. 34 (Manga)

Bleach Vol. 35 (Manga)

Bleach Vol. 36 (Manga)

Bleach Vol. 37 (Manga)

Bleach Vol. 38 (Manga)

Bleach Vol. 39 (Manga)

Bleach Vol. 40 (Manga)

Bleach Vol. 41 (Manga)

Bleach Vol. 42 (Manga)

Bleach Vol. 43 (Manga)

Bleach Vol. 44 (Manga)

Bleach Vol. 45 (Manga)

Bleach Vol. 46 (Manga)

Bleach Vol. 47 (Manga)

Bleach Vol. 48 (Manga)

Bleach Vol. 49 (Manga)

Bleach Vol. 50 (Manga)

Bleach Vol. 51 (Manga)

Bleach Vol. 52 (Manga)

Bleach Vol. 53 (Manga)

Bleach Vol. 54 (Manga)

Bleach Vol. 55 (Manga)

Bleach Vol. 56 (Manga)

Bleach Vol. 57 (Manga)

Bleach Vol. 58 (Manga)

Bleach Vol. 59 (Manga)

Bleach Vol. 60 (Manga)

Bleach Vol. 61 (Manga)

Bleach Vol. 62 (Manga)

Bleach Vol. 63 (Manga)

Bleach Vol. 64 (Manga)

Bleach Vol. 65 (Manga)

Bleach Vol. 66 (Manga)

Bleach Vol. 67 (Manga)

Bleach Vol. 68 (Manga)

Bleach Vol. 69 (Manga)

Bleach Vol. 70 (Manga)

Bleach Vol. 71 (Manga)

Bleach Vol. 72 (Manga)

Bleach Vol. 73 (Manga)

Bleach Vol. 74 (Manga)

Bleach: Can't Fear Your Own World Novel Vol. 1

Bleach: Can't Fear Your Own World Novel Vol. 2

Bleach: Collection 2 Volumes 22-48 (Manga Box Set) w/ Premium