Bleach Vol. 7 (Manga) (Books)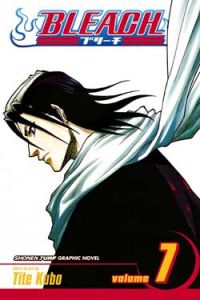 Manufacturer: Viz
Item Code: 1591168074
UPC: 9781591168072
Author: Tite Kubo
S.R.P.: $9.99
Request this item from your local retailer!

Rukia Kuchiki, the ex-Soul Reaper responsible for Ichigo's transformation, is on the lam. Her brethren at the Soul Society are quite displeased with the fact thatshe transferred the powers of a Soul Reaper to a human, and have dispatched two of their strongest agents to neutralize the situation. Their mission is two-fold: to return Rukia to the Soul Society so that she may stand trial, and to deal withIchigo--permanently. But an unlikely third party is standing in their way: Ury? Ishida, the Quincy!
BLEACH © 2001 by TITE KUBO/SHUEISHA Inc.
Tracks
Other products for "Bleach" in "Books"

Bleach Omnibus Vol. 1 (Manga)

Bleach Omnibus Vol. 2 (Manga)

Bleach Omnibus Vol. 3 (Manga)

Bleach Omnibus Vol. 4 (Manga)

Bleach Omnibus Vol. 5 (Manga)

Bleach Omnibus Vol. 6 (Manga)

Bleach Omnibus Vol. 7 (Manga)

Bleach Omnibus Vol. 8 (Manga)

Bleach Omnibus Vol. 9 (Manga)

Bleach Omnibus Vol. 10 (Manga)

Bleach Omnibus Vol. 11 (Manga)

Bleach Omnibus Vol. 12 (Manga)

Bleach Omnibus Vol. 13 (Manga)

Bleach Omnibus Vol. 14 (Manga)

Bleach Omnibus Vol. 15 (Manga) (Vol. 43, 44 & 45)

Bleach Omnibus Vol. 16 (Manga) (Vol. 46, 47 & 48)

Bleach Omnibus Vol. 17 (Manga) (Vol. 49, 50 & 51)

Bleach Omnibus Vol. 18 (Manga) (Vol. 52, 53 & 54)

Bleach Omnibus Vol. 19 (Manga) (Vol. 55, 56 & 57)

Bleach Omnibus Vol. 20 (Manga) (Vol. 58, 59 & 60)

Bleach Omnibus Vol. 21 (Manga) (Vol. 61, 62 & 63)

Bleach Omnibus Vol. 22 (Manga) (Vol. 64, 65 & 66)

Bleach Omnibus Vol. 23 (Manga) (Vol. 67, 68 & 69)

Bleach Omnibus Vol. 24 (Manga) (Vol. 70, 71 & 72)

Bleach Omnibus Vol. 25 (Manga) (Vol. 73 & 74)

Bleach Vol. 1 (Manga)

Bleach Vol. 2 (Manga)

Bleach Vol. 3 (Manga)

Bleach Vol. 4 (Manga)

Bleach Vol. 5 (Manga)

Bleach Vol. 6 (Manga)

Bleach Vol. 8 (Manga)

Bleach Vol. 9 (Manga)

Bleach Vol. 10 (Manga)

Bleach Vol. 11 (Manga)

Bleach Vol. 12 (Manga)

Bleach Vol. 13 (Manga)

Bleach Vol. 14 (Manga)

Bleach Vol. 15 (Manga)

Bleach Vol. 16 (Manga)

Bleach Vol. 17 (Manga)

Bleach Vol. 18 (Manga)

Bleach Vol. 19 (Manga)

Bleach Vol. 20 (Manga)

Bleach Vol. 21 (Manga)

Bleach Vol. 22 (Manga)

Bleach Vol. 23 (Manga)

Bleach Vol. 24 (Manga)

Bleach Vol. 25 (Manga)

Bleach Vol. 26 (Manga)

Bleach Vol. 27 (Manga)

Bleach Vol. 28 (Manga)

Bleach Vol. 29 (Manga)

Bleach Vol. 30 (Manga)

Bleach Vol. 31 (Manga)

Bleach Vol. 32 (Manga)

Bleach Vol. 33 (Manga)

Bleach Vol. 34 (Manga)

Bleach Vol. 35 (Manga)

Bleach Vol. 36 (Manga)

Bleach Vol. 37 (Manga)

Bleach Vol. 38 (Manga)

Bleach Vol. 39 (Manga)

Bleach Vol. 40 (Manga)

Bleach Vol. 41 (Manga)

Bleach Vol. 42 (Manga)

Bleach Vol. 43 (Manga)

Bleach Vol. 44 (Manga)

Bleach Vol. 45 (Manga)

Bleach Vol. 46 (Manga)

Bleach Vol. 47 (Manga)

Bleach Vol. 48 (Manga)

Bleach Vol. 49 (Manga)

Bleach Vol. 50 (Manga)

Bleach Vol. 51 (Manga)

Bleach Vol. 52 (Manga)

Bleach Vol. 53 (Manga)

Bleach Vol. 54 (Manga)

Bleach Vol. 55 (Manga)

Bleach Vol. 56 (Manga)

Bleach Vol. 57 (Manga)

Bleach Vol. 58 (Manga)

Bleach Vol. 59 (Manga)

Bleach Vol. 60 (Manga)

Bleach Vol. 61 (Manga)

Bleach Vol. 62 (Manga)

Bleach Vol. 63 (Manga)

Bleach Vol. 64 (Manga)

Bleach Vol. 65 (Manga)

Bleach Vol. 66 (Manga)

Bleach Vol. 67 (Manga)

Bleach Vol. 68 (Manga)

Bleach Vol. 69 (Manga)

Bleach Vol. 70 (Manga)

Bleach Vol. 71 (Manga)

Bleach Vol. 72 (Manga)

Bleach Vol. 73 (Manga)

Bleach Vol. 74 (Manga)

Bleach: Can't Fear Your Own World Novel Vol. 1

Bleach: Can't Fear Your Own World Novel Vol. 2

Bleach: Collection 2 Volumes 22-48 (Manga Box Set) w/ Premium