NOTICE
Novel Corona 2020
| | |
| --- | --- |
| May 7, 2020 | Will Call Update |
| May 4, 2020 | AAA Anime Inc. Will Call orders have new safety procedures. |
| May. 25, 2020 | AAA Anime Inc. will be CLOSED on Monday in observance of Memorial Day. |
Sexy Voice and Robo Vol. 1 (Manga) (Books)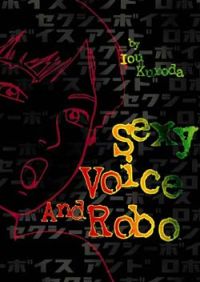 Manufacturer: Viz
Item Code: 159116916X
UPC: 9781591169161
Author: Iou Kuroda
S.R.P.: $19.99
Request this item from your local retailer!

Working part-time as a telephone-dating operator, Nico Hayashi has plenty of clients eager to engage her in titillating conversation. But what her customers don't know is this: the person they're flirting with is really a 14-year-old junior high school girl with a secret agenda.
On the phone she's known as Sexy Voice. But, really, she's more than a professional flirt. Secretly, she wants to change the world and maybe become a spy and fortuneteller, too.
Along for the ride is her friend Iichiro Sudo. He's an underemployed twenty-something hipster with an obsession for collecting toy robots. Together they are Sexy Voice and Robo...two people doing their best to bring some hope into this crazy world.
SEXY VOICE AND ROBO © 2002, 2003 Iou Kuroda/Shogakukan, Inc.
Tracks