Oh! My Goddess! Vol. 26 (Manga) (Books)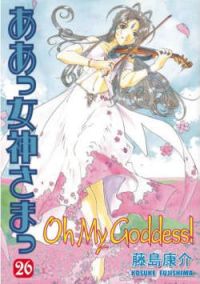 Manufacturer: Dark Horse
Item Code: 1593077157
UPC: 9781593077150
Author: Kosuke Fujishima
S.R.P.: $10.95
Request this item from your local retailer!

Ever since a cosmic phone call brought the four literal young goddesses Belldandy, Urd, Skuld-and, like an occasional vowel, Peorth-to live in college student Keiichi's residence, his personal life has been turned upside-down, sideways, and sometimes even into strange dimensions!

The Devil came down to Tarikihongan! As Lind, the Fifth Goddess battles Hild to defeat the Eater of Angels, it is the weaponless, powerless Keiichi whose heart holds the key to victory. But the lingering Demon Angel within Belldandy is causing her magic to make strange hiccups, and it may be Keiichi again who must serve as the vessel of diabolic forces! Can he succeed without Chihiro finally catching on to the facts of his cosmic love life? Plus notes and commentary, and your letters!
Tracks