Berserk Vol. 23 (Manga) (Books)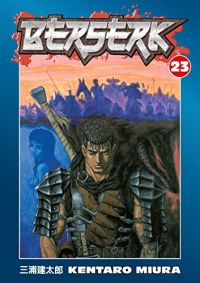 Manufacturer: Dark Horse
Item Code: 1593078641
UPC: 9781593078645
Author: Kenturo Miura
S.R.P.: $13.95
Request this item from your local retailer!

Desperate as Guts, the Black Swordsman, has been to reunite with his former captain and lover, the now-mad Casca, he's quickly learning that being together is as dangerous as being apart. What should be a simple journey to the safety of Puck's homeland proves to be a gauntlet of perils, as the Mark of Sacrifice each bears brings the fury of Hell down upon them, and Guts discovers that in his darkest moments he himself is the greatest danger to the woman he loves.
Tracks