Berserk Vol. 24 (Manga) (Books)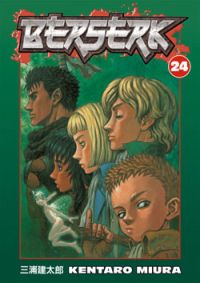 Manufacturer: Dark Horse
Item Code: 159307865X
UPC: 9781593078652
Author: Kenturo Miura
S.R.P.: $13.95
Request this item from your local retailer!

Desperate to find a sanctuary where his lover, Casca, will be safe from the demons drawn to her Brand of Sacrifice, Guts the Black Swordsman pushes his motley band of followers onward towards fairy Puck's homeland, Elfhelm. With new allies who make their home in a mystically guarded woodland paradise, Guts' goal seems within reach, but danger lurks in the shadows of even the most dazzling utopias, and even fairy witchery may not protect the wondrous kingdom from an army of marauding, murderous trolls!
Tracks