NOTICE
Novel Corona 2020
| | |
| --- | --- |
| Sept. 7, 2020 | AAA Anime Inc. will be CLOSED on Monday in observance of Labor Day. |
Trigun Maximum Vol. 12: The Gunslinger (Manga) (Books)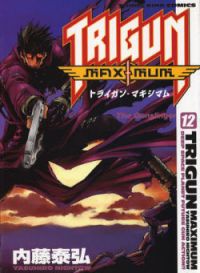 Manufacturer: Dark Horse
Item Code: 1593078811
UPC: 9781593078812
Author: Yasuhiro Nightow
S.R.P.: $9.95
Request this item from your local retailer!

With a fleet of rescue ships from Earth facing off against Knives, the humans in chaos on the ground, Livio renewing his struggle against Elendira, and Vash trying to keep everyone from getting hurt, Trigun Maximum promises a dizzying array of action. But in the midst of this multiple-front battle, Yasuhiro Nightow flashes back to the past, letting readers in on some background information on Knives, Vash, and even Legato Bluesummers.
Tracks