Berserk Vol. 28 (Manga) (Books)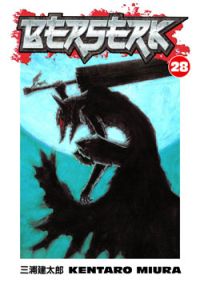 Manufacturer: Dark Horse
Item Code: 1595822097
UPC: 9781595822093
Author: Kenturo Miura
S.R.P.: $14.99
Request this item from your local retailer!

Guts, the Black Swordsman, and his companions have finally arrived at the sea, where they discover a mysterious child who seems to share a special bond with Guts and his former lover, the now-mad Casca. The troupe's brief respite at the shore offers moments for quiet introspection and deeper bonding, but such peace is always short lived where Guts is involved, and Guts must once again don the demonic Berserker Armor to take on a force of bloodthirsty beasts emerging from the once-peaceful surf, possessed by the accursed sorcery of a powerful Kushan enchanter! And who knows what will happen when internal strife pushes a member of Guts's band unknowingly into the comforting companionship of an enemy!

o Each volume of Berserk comes shrink-wrapped and carries an 18+ content advisory.

"Berserk is as shocking and unique as ever this far into the series. There are few titles out there that can sustain the level of intensity and relevance as this." -AnimeonDVD.com


BERSERK by Kentaro Miura © 1989 Kentaro Miura. All rights reserved.
First published in Japan in 1990 by HAKUSENSHA, INC., Tokyo. English language translation rights in the United States of America and Canada arranged with HAKUSENSHA, INC., Tokyo through TOHAN CORPORATION, Tokyo.
New text copyright Dark Horse Comics, Inc./Digital Manga, Inc.
Tracks