NOTICE
Novel Corona 2020
| | |
| --- | --- |
| Nov. 26, 2020 | AAA Anime Inc. will be CLOSED on Thursday in observance of Thanksgiving. |
| Dec. 24-25, 2020 | AAA Anime Inc. will be CLOSED on Thursday and Friday in observance of Christmas Eve and Christmas Day. |
| Jan. 1st, 2021 | AAA Anime Inc. will be CLOSED on Friday in observance of New Years Day. |
| UPS Holiday Schedule Notes | UPS Guarantee is suspended for all UPS Ground shipments picked up or scheduled for delivery Nov. 29 - Dec. 24. |
Blue Flag Vol. 5 (Manga) (Books)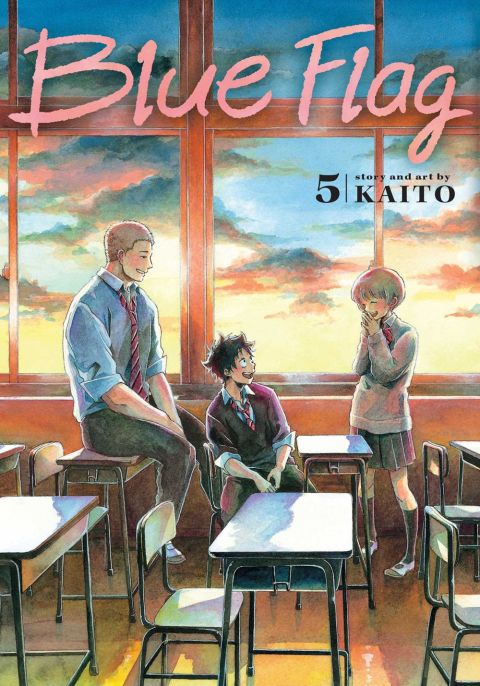 Street Date: 12/15/2020
Manufacturer: Viz
Item Code: 1974713059
UPC: 9781974713059
S.R.P.: $12.99
Request this item from your local retailer!

An unexpected love quadrangle with a dash of unrequited love as two classmates, a boy and a girl, begin to fall for each other when each of their best friends have already fallen for them.Love is already hard enough, but it becomes an unnavigable maze for unassuming high school student Taichi Ichinose and his shy classmate Futaba Kuze when they begin to fall for each other after their same-sex best friends have already fallen for them.School is back in session after summer break, and Taichi and Futuba are slowly transitioning their relationship from friends to something more. Suddenly, Mami starts being unusually friendly with Taichi, leaving Futuba feeling anxious. Taichi, unsure of Mamiís true intent, canít help but get dragged along in her wake. Their situation attracts attention, more people become involved and soon everyone is questioning everyone elseís relationships!