Batman: Gotham Knight (Standard) (DVD) (DVDs)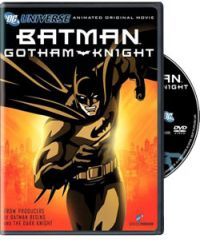 Manufacturer: Warner Home Video
Item Code: 1000022101
UPC: 085391123323
Trailer: Hosted by Warner Home Video
S.R.P.: $14.98
Request this item from your local retailer!

From Warner Home Video, Inc.! Bridging the gap between Batman Begins and The Dark Knight, and directed by Bruce Timm (Batman: The Animated Series), Batman: Gotham Knight taps into the work of three, pioneering anime studios (Production I.G., Studio 4C, and Madhouse) and five noted anime directors (Shojiro Nishimi, Futoshi Higashide, Hiroshi Morioka, Yasuhiro Aoki, and Toshiyuki Kubooka) to create a thrilling anthology of six interrelated, animated shorts based on stories by Josh Olson (A History of Violence), David S. Goyer (Batman Begins), Alan Burnett (Batman: The Animated Series), Greg Rucka (Whiteout), Jordan Goldberg (The Dark Knight), and Brian Azzarello (100 Bullets). Scheduled to ship in July 2008.
Tracks