Noein Vol. 5 (DVD) (DVDs)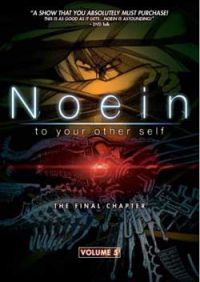 Manufacturer: Manga Entertainment
Item Code: M5008
UPC: 013138500892
Genre: Sci-Fi
S.R.P.: $19.98
Request this item from your local retailer!

Few works of fiction, let alone cartoons, have tackled the issues put forth by contemporary quantum physics, but NOEIN is a colorful exception. In this final volume of the anime series that combines Einstein and teenage melodrama, the fight is taken deep into the heart of Shangri-la where the mysteries of its parallel structure to La'cryma are hidden. In a universe where reality is created by observation, can the Dragon Cavalry keep its fabric held together or will Noein's anguish tear it apart?
Tracks