NOTICE
Holiday Schedule
| | |
| --- | --- |
| Nov. 22, 2018 | AAA Anime Inc. will be CLOSED on Thursday in observance of Thanksgiving. |
| Dec. 24, 2018 | AAA Anime Inc. will be CLOSED on Monday for Christmas Eve. |
| Dec. 25, 2018 | AAA Anime Inc. will be CLOSED on Tuesday in observance of Christmas. |
| Jan. 1, 2019 | AAA Anime Inc. will be CLOSED on Tuesday in observance of New Years Day. |
| Dec. 31, 2018 | AAA Anime Inc. will be open for a half day. No outbound shipments are scheduled that day. |
| UPS Holiday Schedule Notes | UPS Guarantee is suspended for all UPS Ground shipments picked up or scheduled for delivery Nov. 26–Dec. 24. |
Twinkle Stars Vol. 4 (Manga) (Books)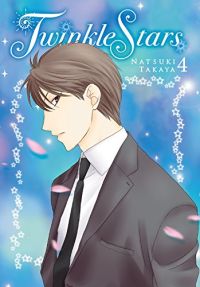 Manufacturer: Yen Press
Item Code: 0316360961
UPC: 9780316360968
Author: Natsuki Takaya
S.R.P.: $20.00
Request this item from your local retailer!

The second semester of school is starting, and Chihiro's kinder attitude toward Sakuya is making her heart race! When he recommends her a book to read, she's positively overjoyed. But on the way home from a night of stargazing with the Star Appreciation Club, Chihiro suddenly approaches her! What does he want to talk about...?