NOTICE
Holiday Schedule
| | |
| --- | --- |
| May. 28, 2018 | AAA Anime Inc. will be CLOSED on Monday in observance of Memorial Day. |
Smokin' Parade Vol. 3 (Manga) (Books)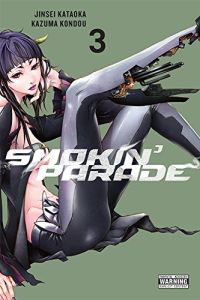 Manufacturer: Yen Press
Item Code: 0316414093
UPC: 9780316414098
Author: Jinsei Kataoka
S.R.P.: $13.00
Request this item from your local retailer!

Under Shiba's leadership, the Jackalopes launch a surprise attack against the Amenotori facility where the Shikagura are undergoing maintenance. Every one of the Jackalopes' moves has been carefully informed by their intel network, but the Shikagura prove themselves to be even more wily than anyone anticipated! United by bonds that are stronger than blood, the Spiders of Shikagura has woven their web of crazed malice--and the Jackalopes have walked right into it!!