NOTICE
Holiday Schedule
| | |
| --- | --- |
| Nov. 22, 2018 | AAA Anime Inc. will be CLOSED on Thursday in observance of Thanksgiving. |
| Dec. 24, 2018 | AAA Anime Inc. will be CLOSED on Monday for Christmas Eve. |
| Dec. 25, 2018 | AAA Anime Inc. will be CLOSED on Tuesday in observance of Christmas. |
| Jan. 1, 2019 | AAA Anime Inc. will be CLOSED on Tuesday in observance of New Years Day. |
| Dec. 31, 2018 | AAA Anime Inc. will be open for a half day. No outbound shipments are scheduled that day. |
| UPS Holiday Schedule Notes | UPS Guarantee is suspended for all UPS Ground shipments picked up or scheduled for delivery Nov. 26–Dec. 24. |
Empty Box and Zeroth Maria Novel Vol. 1 (Books)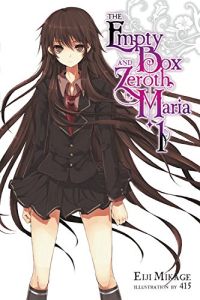 Manufacturer: Yen Press
Item Code: 031656110X
UPC: 9780316561105
Author: Eiji Mikage
S.R.P.: $14.00
Request this item from your local retailer!

Kazuki Hoshino leads the easy-going life of a typical high school student--until the appearance of a new girl in his class turns his world upside down! Introducing herself with a promise to "break" Kazuki is abnormal enough to make an impression, sure, but why does she seem so familiar...?