NOTICE
AAA Server Maintenance
| | |
| --- | --- |
| Mar 1st, 2019 | AAAanime.com will be performing maintenance and upgrades to our server and codes and the websites and functions may be periodically down for these upcoming weeks. |
Perfect Day for Love Letters, A Vol. 1 (Manga) (Books)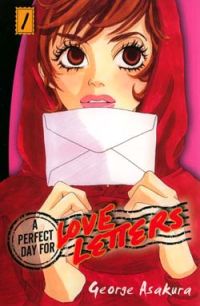 Manufacturer: Del Rey
Item Code: 0345482662
UPC: 9780345482662
Author: George Asakura
S.R.P.: $10.95
Request this item from your local retailer!

Five Letters... Five Chances for Love.
1. When a librarian receives a love letter hidden in one of her books, she finds a very unlikely reading partner.
2. The meanest boy at school sends a letter that falls into the wrong hands, compelling him to reveal a side of himself that no one ever expected.
3. A mistreated young girl finds hope in a friend, and the strength to leave her troubled past behind.
4. There's a single love letter-and its author could be any one of a number of boys. Now the search is on to discover the tender wordsmith's identity.
5. When a mailman befriends a blind woman who recently lost her companion, he tries to heal her loneliness through love letters.
Tracks