NOTICE
AAA Server Maintenance
| | |
| --- | --- |
| Mar 1st, 2019 | AAAanime.com will be performing maintenance and upgrades to our server and codes and the websites and functions may be periodically down for these upcoming weeks. |
Soul Eater Vol. 2 (Manga) (Books)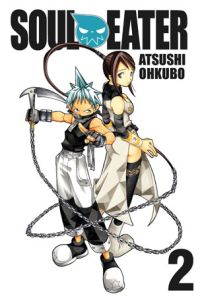 Manufacturer: Yen Press
Item Code: 0759530483
UPC: 9780759530485
Author: Atsushi Ohkubo
S.R.P.: $13.00
Request this item from your local retailer!

Maka and Soul are given a remedial assignment to take the soul of Dr. Franken Stein-who happens to be the most powerful meister to ever graduate from Death Weapon Meister Academy. Needless to say, this assignment turns out to be more than they were expecting. In the middle of the fight, Maka learns how to see someone's soul-and sees for herself just how powerful Dr. Stein's soul is. It scares her so much that she freezes up. Luckily for her, the whole thing is just a set-up as part of the assignment, and Dr. Stein decides to pass them. Things seem to be back to normal when a more dangerous enemy emerges-and this time it's not a test. Named Crona, he carries the demon sword Ragnarok, whose attacks are accompanied by grotesque, ear-piercing screams. But Crona is merely a puppet of the witch Medusa, who is trying to manipulate him into becoming something called a "Kishin." Shinigami-sama sends Dr. Stein and Death Scythe to make sure that that doesn't happen.
Tracks