NOTICE
Holiday Schedule
| | |
| --- | --- |
| Nov. 23, 2017 | AAA Anime Inc. will be CLOSED on Thursday in observance of Thanksgiving. |
| Dec. 25, 2017 | AAA Anime Inc. will be CLOSED on Monday in observance of Christmas. |
| Jan. 1, 2017 | AAA Anime Inc. will be CLOSED on Monday in observance of New Years Day. |
Beet The Vandel Buster Vol. 7 (Manga) (Books)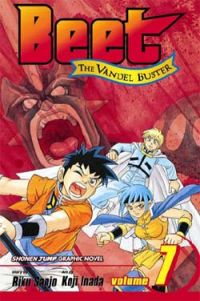 Manufacturer: Viz
Item Code: 1421500760
UPC: 9781421500768
Author: Riku Sanjo
S.R.P.: $7.99
Request this item from your local retailer!

Beet, who his told his friends to escape when the fight turned ugly, thinks he is facing down a battle-mad Grineed with only the untested Boltic Axe at his side. But despite the danger, Poala and Kissu turn back to help when they see that Beet is in trouble. Exhausted by the encounter and unable to use normal Divine Attacks, the Beet Warriors must work as one to defeat the bloody beast Grineed. But as they land the killing blow, they discover that Grineed's body will self-destruct in a massive explosion the moment he dies! With all their energy spent, how will they get away in time?
BOUKEN OH BEET - BEET THE VANDEL BUSTER - © 2002 by RIKU SANJO, KOJI INADA / SHUEISHA Inc.
Tracks