NOTICE
Holiday Schedule
| | |
| --- | --- |
| July 4, 2018 | AAA Anime Inc. will be CLOSED on Wednesday in observance of Independence Day. |
Boys Over Flowers Vol. 31 (Manga) (Books)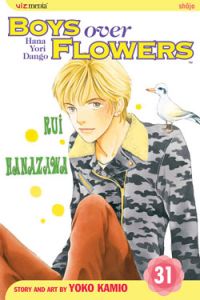 Manufacturer: Viz
Item Code: 1421517183
UPC: 9781421517186
Genre: N/A
Author: Kamio, Yoko
S.R.P.: $9.99
Request this item from your local retailer!

HANA-YORI DANGO ©1992 by Yoko Kamio/SHUEISHA Inc.

Mysterious men have knocked out Tsukushi and her on-and-off boyfriend Tsukasa. The two awake to find themselves alone on a boat, a situation that reeks of the diabolical handiwork of Tuskasa's maniacal mother Kaede. Will the two of them survive this insane twist of fate?
Tracks