Black Bird Vol. 1 (Manga) (Books)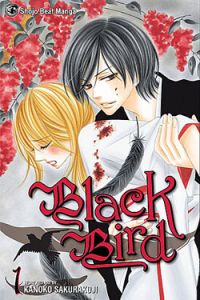 Manufacturer: Viz
Item Code: 1421527642
UPC: 9781421527642
Genre: Shojo
Author: Kanoko Sakurakoji
S.R.P.: $9.99
Request this item from your local retailer!

There is a world of myth and magic that intersects ours, and only a special few can see it. Misao Harada is one such person, and she wants nothing to do with magic realms. She just wants to hae a normal high school life and maybe a boyfriend.
All that changes one day when Misao is attacked by a demon. Her childhood friend Kyo suddenly returns to save her and tends to her cuts - with his tongue! Misao is bride of prophecy, whose blood gives power to the clan who claims her. But most demons want to keep her power to themselves - by devouring her! Now Misao is just trying to stay alive... an dto decide if she likes it when Kyo likes her wounds.
Tracks