NOTICE
Holiday Schedule
| | |
| --- | --- |
| July 4, 2018 | AAA Anime Inc. will be CLOSED on Wednesday in observance of Independence Day. |
Monster Hunter: Flash Hunter Vol. 9 (Manga) (Books)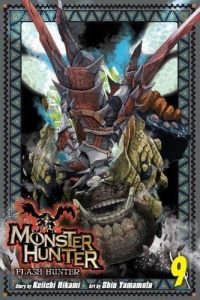 Manufacturer: Viz
Item Code: 1421584344
UPC: 9781421584348
Author: Keiichi Hikami
S.R.P.: $10.99
Request this item from your local retailer!

It is an age when monsters rule the world, soaring through the sky, treading the earth and filling the seas. Humanity survives on the fringes, relying on a special kind of hero to defend the people from danger - the Monster Hunters!

Raiga's mentor, Bexel, was once a great hero, but what happened to him that caused him to fall from grace? No one can hunt alone and survive but Bexel has done just that. With Raiga and his party struggling against many unexpected difficulties, is there a limit to what they can do, and a challenge they can't handle? Bexel might be able to help them turn the tide, or he might just be their downfall!