NOTICE
Holiday Schedule
| | |
| --- | --- |
| July 4, 2018 | AAA Anime Inc. will be CLOSED on Wednesday in observance of Independence Day. |
Revolutionary Girl Utena Deluxe Box Set (Manga) (Books)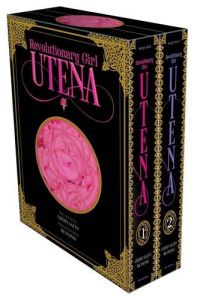 Manufacturer: Viz
Item Code: 1421585871
UPC: 9781421585871
Author: Chiho Saito
S.R.P.: $49.99
Request this item from your local retailer!

The classic shojo manga that redefined the genre.
The classic manga returns in a deluxe box set! Hardcover editions of Revolutionary Girl Utena and The Adolescence of Utena are included in this two-volume collectors' set with exclusive color pages and poster.

Utena strives to be strong and noble like the childhood prince she yearns to meet again. But when she finds herself seduced into the twisted duels of Ohtori Academy, can she become the prince she's been waiting for?