Art Book: Yoshitaka Amano Illustrations (Final Fantasy, Vampire Hunter D, Gatachman) (Books)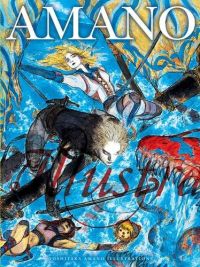 Manufacturer: Viz
Item Code: 1421589575
UPC: 9781421589572
S.R.P.: $19.99
Request this item from your local retailer!

Since beginning his career at age fifteen with the legendary animation studio Tatsunoko Production, Yoshitaka Amano has become one of the most acclaimed artists and illustrators at work today. Displaying a rare range, his oeuvre encompasses everything from minutely observed still-life sketches to full-color paintings on an epic scale, from children's storybooks to dark adult fantasy, from theatrical productions to video games to sculpture to commercial design. Yoshitaka Amano: Illustrations offers a concise survey of this remarkable artist's career to date. It includes selected full-color pieces for series such as Final Fantasy, Vampire Hunter D and Gatchaman (Battle of the Planets), as well as for Amano's own creations like Hero and N.Y. Salad. Packed with sketches, commentary, and interviews, this affordable yet beautiful volume opens a window into the world of Amano.