NOTICE
Holiday Schedule
| | |
| --- | --- |
| July 4, 2018 | AAA Anime Inc. will be CLOSED on Wednesday in observance of Independence Day. |
Finder Deluxe Edition Vol. 2: Caught in a Cage (Yaoi Manga) (Books)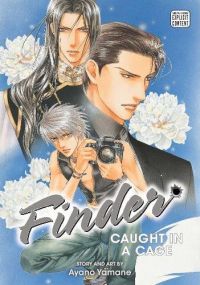 Manufacturer: Viz
Item Code: 1421593068
UPC: 9781421593067
Author: Ayano Yamane
S.R.P.: $14.99
Request this item from your local retailer!

This deluxe edition includes never-before-released material as well as a double-sided color insert and special cover treatment! Photographer Takaba Akihito takes on a risky assignment trying to document the illegal activities of the Japanese underworld. When he captures its leader--the handsome, enigmatic Asami Ryuichi--in the crosshairs of his viewfinder, Takaba's world is changed forever.

Impulsive freelance photographer Akihito Takaba isn't one to back down from a challenge. Undeterred by the ravaging his body took at the hands of crime lord Asami Ryuichi, Akihito stakes out the handsome crime boss's club hoping to get the information he needs to take him down. Meanwhile, rival mafioso Fei Long returns to Hong Kong after his run-in with Asami and reminisces about their time together seven years earlier. What could the future possibly hold for this very deadly love triangle?