NOTICE
Holiday Schedule
| | |
| --- | --- |
| Nov. 26, 2015 | AAA Anime Inc. will be CLOSED on Thursday in observance of Thanksgiving Day. |
| Dec. 24, 2015 | AAA Anime Inc. will be open for a half day. No outbound shipment are scheduled that day. |
| Dec. 25, 2015 | AAA Anime Inc. will be CLOSED on Friday in observance of Christmas. |
| Dec. 31, 2015 | AAA Anime Inc. will be open for a half day. No outbound shipments are scheduled that day. |
| Jan. 1, 2016 | AAA Anime Inc. will be CLOSED on Friday in observance of Christmas. |
| UPS Holiday Schedule Notes | The UPS Service Guarantee is suspended for UPS Ground and UPS Standard Packages scheduled for delivery between December 11-24 |
Fushigi Yugi Vol. 13: Goddess (Manga) (Books)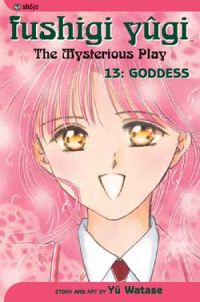 Manufacturer: Viz
Item Code: 1591160863
UPC: 9781591160861
Author: Y? Watase
S.R.P.: $9.95
Request this item from your local retailer!

Nakago has entered the real world to collect on Yui's promise to grant him the thrid and final Seiryu wish. But his wish may have the greatest consequence of all for Yui! Miaka summons Suzaku, but is it too late to protect her world and the world of the book?
FUSHIGI YUGI © 1992 Yuu Watase/Shogakukan, Inc.
Tracks