NOTICE
Holiday Schedule
| | |
| --- | --- |
| Nov. 26, 2015 | AAA Anime Inc. will be CLOSED on Thursday in observance of Thanksgiving Day. |
| Dec. 24, 2015 | AAA Anime Inc. will be open for a half day. No outbound shipment are scheduled that day. |
| Dec. 25, 2015 | AAA Anime Inc. will be CLOSED on Friday in observance of Christmas. |
| Dec. 31, 2015 | AAA Anime Inc. will be open for a half day. No outbound shipments are scheduled that day. |
| Jan. 1, 2016 | AAA Anime Inc. will be CLOSED on Friday in observance of Christmas. |
| UPS Holiday Schedule Notes | The UPS Service Guarantee is suspended for UPS Ground and UPS Standard Packages scheduled for delivery between December 11-24 |
Fushigi Yugi Vol. 5: Rival (2nd Edition) (Manga) (Books)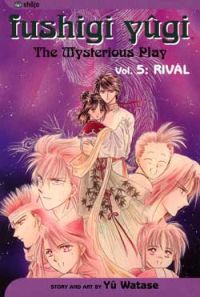 Manufacturer: Viz
Item Code: 1591160979
UPC: 9781591160977
Author: Yu Watase
S.R.P.: $9.95
Request this item from your local retailer!

Miaka's search for the last celestial warrior brings her and her escorts back to Tamahome's home village. After healing Tamahome's father of illness, an agent of Qu-Dong attacks Miaka, but a flute-playing warrior comes to her aid--the seventh warrior of Suzaku, Chiriko!

With all the celestial warriors accounted for, Miaka heads back to Hong-Nan to plan Tamahome's return. But Yui, jealous of Miaka and lovestruck for Tamahome, doesn't want to give up the warrior without a fight. When Miaka travels to the appointed meeting spot to take Tamahome back to Hong-Nan, all she finds is a group of soldiers waiting for her and Yui in command! Has Tamahome sold Miaka out?
FUSHIGI YUGI © 1992 Yuu Watase/Shogakukan, Inc.
Tracks