Comic Party (TP) Vol. 3 (Manga) (Books)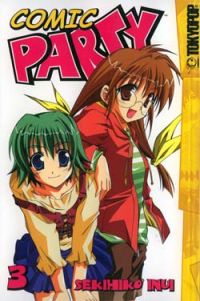 Manufacturer: Tokyo Pop
Item Code: 1591828562
UPC: 9781591828563
Author: Sekihiko Inui
S.R.P.: $9.99
Request this item from your local retailer!

It's the Comi Rangers to the rescue! When Kazuki and company find Kingu Jacky's bomb, will they be able to put out the Comic Party pooper? Even if this TNT terrorist fizzles out, Kazuki must still figure out how to make his doujinshi light up the best-seller lists before he burns out. Meanwhile, will Mizuki turn the next Comic Party into a costume party success? Stayed "tooned"!
Tracks