Space Pinchy (Manga) (Books)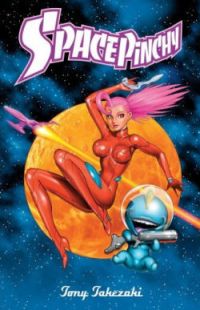 Manufacturer: Dark Horse
Item Code: 1593076320
UPC: 9781593076320
Author: Tony Takezaki
S.R.P.: $15.95
Request this item from your local retailer!

The last of the Pinch tribe, Pinchy travels through the stars in search of treasures left behind by her ancestors, and it's never an easy hunt. But one thing is for certain, it's always hilarious.

From the crazy manga mind of Tony Takezaki, Space Pinchy is a frenetic series of sexy high jinks, rendered in beautiful, 3D-curvy color. Join Pinchy and her naughty alien companion, Audrey Q as they somehow escape the most dire and ridiculous consequences Takezaki can think up!
Tracks