NOTICE
Holiday Schedule
| | |
| --- | --- |
| Nov. 22, 2018 | AAA Anime Inc. will be CLOSED on Thursday in observance of Thanksgiving. |
| Dec. 24, 2018 | AAA Anime Inc. will be CLOSED on Monday for Christmas Eve. |
| Dec. 25, 2018 | AAA Anime Inc. will be CLOSED on Tuesday in observance of Christmas. |
| Jan. 1, 2019 | AAA Anime Inc. will be CLOSED on Tuesday in observance of New Years Day. |
| Dec. 31, 2018 | AAA Anime Inc. will be open for a half day. No outbound shipments are scheduled that day. |
| UPS Holiday Schedule Notes | UPS Guarantee is suspended for all UPS Ground shipments picked up or scheduled for delivery Nov. 26–Dec. 24. |
Art Book: Art of Tara McPherson - Bunny in the Moon (Books)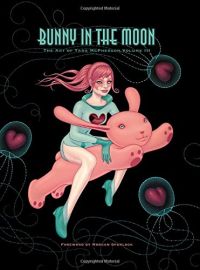 Manufacturer: Dark Horse
Item Code: 1595828559
UPC: 9781595828552
Author: Tara McPherson
S.R.P.: $23.99
Request this item from your local retailer!

Bunny in the Moon features compelling new works in paint, print, pencil, and sculpture informed by mythology and folklore of Japanese, Brazilian, Saxon, Greek, and Pagan origin. The resulting imagery combines the primal power at the core of ancient culture with McPherson''s contemporary explorations of love, loss, strength, vulnerability, and female empowerment. This volume also contains a foreword by filmmaker Morgan Spurlock (Supersize Me).
Tracks