Madtown Hospital Vol. 1 (Manga) (Books)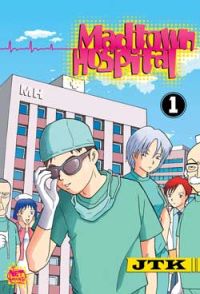 Manufacturer: Netcomics
Item Code: 1600090257
UPC: 9781600090257
Author: JTK
S.R.P.: $9.99
Request this item from your local retailer!

You are in for a ride of knee-slapping, stomach-hurting quirky laughter. These non-stop, uproarious episodes take place in a general hospital where the doctors and staffs have more serious problems than their patients. This hospital is run by wacky characters like Dr. Don Juan, a lady's man who has not failed to kill every patient he operates on; Dr. Kang who dates her patient just to get the RH-A type blood; Nurse Lee, a former supermodel, who gets diced into pieces in the hospital's high-tech preparation machine, etc. Madtown Hospital is the essence of black comedy.
Tracks