Madtown Hospital Vol. 2 (Manga) (Books)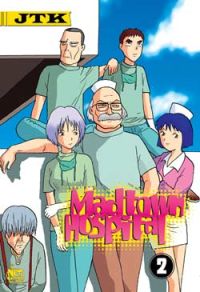 Manufacturer: Netcomics
Item Code: 1600090265
UPC: 9781600090264
Author: JTK
S.R.P.: $9.99
Request this item from your local retailer!

A fierce competition to win a town's respect ensues between Don Juan from Madtown Hospital and Kyungwan Ryoo from Cemetery Hospital. Amidst broken bones, a clumsy chase through the rooftops, and the mad rush of ambulances, will the patient even emerge alive? A smothering heat has fallen on Madtown Hospital, and none of the air-conditioners work! Watch as the members of Madtown's staff try everything in their power to make their patients comfortable. From dressing up like ghosts and scaring them to shivers, to dressing up in colorful swimsuits in the operating room - all in the name of their patients' mental health! And finally, read on as the Madtown Hospital's staff members decide to go on vacation via impromptu lottery. The winners pat themselves on the back as they sunbathe on the sand, the worries of the operating room all drifting away. Life is good, they agree, as they survey the beach, which is full of fun and gorgeous girls in bikinis. But when a ship suddenly capsizes, the Madtown staff spring into action... and spend the whole vacation rescuing 500 patients! The staff of Madtown Hospital is back and they are ready to take you on another gut-busting rollercoaster adventure through operating room antics and crazy medical fun! Fasten your seatbelts; this is going to be one bumpy ride!
Tracks