NOTICE
Holiday Schedule
| | |
| --- | --- |
| July 4, 2018 | AAA Anime Inc. will be CLOSED on Wednesday in observance of Independence Day. |
Concrete Revolutio: The Complete Saga (Manga) (Books)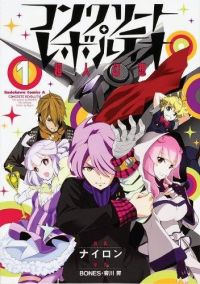 Manufacturer: Seven Seas
Item Code: 1626925364
UPC: 9781626925366
Author: Bones
S.R.P.: $19.99
Request this item from your local retailer!

The population of superpowered individuals continues to grow, and every day sees another crop of superhumans, aliens, robots, and supernatural creatures appearing across the globe. Whether using their abilities for good or evil, it all needs to be kept a secret from the human race. That's where the Superhuman Bureau comes in--tasked with finding, assessing and controlling these individuals. However, new recruit Jiro Hitoyoshi finds things aren't as simple as that, and five years later, finds himself on the other end of these control measures.