NOTICE
Holiday Schedule
| | |
| --- | --- |
| Nov. 22, 2018 | AAA Anime Inc. will be CLOSED on Thursday in observance of Thanksgiving. |
| Dec. 24, 2018 | AAA Anime Inc. will be CLOSED on Monday for Christmas Eve. |
| Dec. 25, 2018 | AAA Anime Inc. will be CLOSED on Tuesday in observance of Christmas. |
| Jan. 1, 2019 | AAA Anime Inc. will be CLOSED on Tuesday in observance of New Years Day. |
| Dec. 31, 2018 | AAA Anime Inc. will be open for a half day. No outbound shipments are scheduled that day. |
| UPS Holiday Schedule Notes | UPS Guarantee is suspended for all UPS Ground shipments picked up or scheduled for delivery Nov. 26–Dec. 24. |
Magatsuki Vol. 2 (Manga) (Books)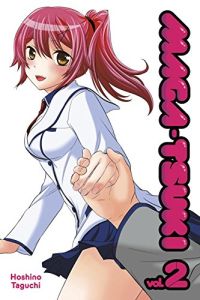 Manufacturer: Kodansha Comics
Item Code: 1632362406
UPC: 9781632362407
Author: Hoshino Taguchi
S.R.P.: $10.99
Request this item from your local retailer!

Yasuke is a teenager with his soul torn between two girls - literally! After falling under a curse, he can't get too far from Orihime, a goddess in the body of a cute teenage girl, or he dies...but his heart really belongs to his childhood friend Akari. When the only way to keep the curse from killing him is a kiss from a teenage goddess, how will Yasuke explain this bizarre turn of events to Akari? And what will happen when Akari gets ahold of Yasuke's lost soul?