NOTICE
Holiday Schedule
| | |
| --- | --- |
| May. 29, 2017 | AAA Anime Inc. will be CLOSED on Monday in observance of Memorial Day. |
| July 4, 2017 | AAA Anime Inc. will be CLOSED on Tuesday in observance of Independence Day. |
Sister Princess OST: My Sweet Twelve Angels (CDs)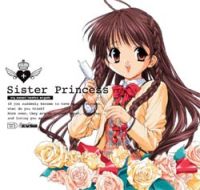 Manufacturer: Geneon
Item Code: 52542
UPC: 013023525429
S.R.P.: $14.98
Request this item from your local retailer!

Wataru's the academic ace among his classmates, but due to some bad luck and carelessness, he's failed the entrance exams and now has to enroll in a high school located on an island! On the boat trip to Promise Island, Wataru falls off, but he's rescued by a girl who turns out to be his sister. Actually, she's one of 12 sisters - 12 cute sisters that he's meeting for the first time, all innocently vying for his attention.
"Sister Princess - my sweet twelve angels" is a cheerful image CD soundtrack inspired by the PS2 game-turned popular anime series with endearingly beautiful and poppy tracks, featuring character-based songs performed by each of the original Japanese voice actresses.
Tracks
1. Karen - Daisy Bouquet
2. Kaho - A little Pansy
3. Mamoru - Speed
4. Sakuya - girlish
5. Hinako - Angel's Happiness
6. Marie - Prayer
7. Chikage - Kiss of Darkness
8. Haruka - Faint Dream
9. Rinrin - Secret of Love
10. Yotsuba - I Check Your Heart!
11. Shirayuki - sweet sour cherry pie
12. Aria - A Prince and Sweet Stars
13. A Letter From Karen
14. A Letter from Kaho
15. A Letter from Mamoru
16. A Letter from Sakuya
17. A Letter from Hinako
18. A Letter from Marie
19. A Letter from Chikage
20. A Letter from Haruka
21. A Letter from Rinrin
22. A Letter from Yotsuba
23. A Letter from Shirayuki
24. A Letter from Aria