NOTICE
Holiday Schedule
| | |
| --- | --- |
| May. 29, 2017 | AAA Anime Inc. will be CLOSED on Monday in observance of Memorial Day. |
| July 4, 2017 | AAA Anime Inc. will be CLOSED on Tuesday in observance of Independence Day. |
Hanaukyo Maid Team ~ La Verite OST (CDs)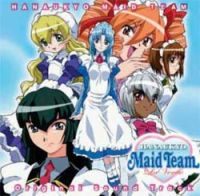 Manufacturer: Geneon
Item Code: 52692
UPC: 013023526921
S.R.P.: $14.98
Request this item from your local retailer!

Beautiful maids galore and beautiful, regal melodies
go together hand-in-hand in the 'Hanaukyo Maid
Team ~ La Verite Original Soundtrack,' featuring 26
playful instrumental tracks laced with prominent
strings, flute, sax and piano led by composer Michiru
Oshima (Full Metal Alchemist, Magic User's Club).
From the smooth sway of the warm opening theme
song, 'Voice of heart,' performed by "Chobits" and
"Hanaukyo Maid Team ~ La Verite" voice
actress/vocalist Rie Tanaka, to the bubbly and catchy
ending song, 'We'll Serve You!', this gentle
soundtrack fully encapsulates the musical elegance
and charm of this anime series.
Tracks
1) Voice of heart (Instrumental)
2) We'll Serve You! (Instrumental)
3) A usual day
4) In a sunny place
5) The Hanaukyo
6) We serve you today, too
7) Everyday radiant
8) I stay by your side
9) In a dignified manner
10) Take a short rest
11) Jolly folks
12) Enjoy today, too
13) Fun date
14) It's a showdown
15) Peace of mind
16) Secret
17) Truth..
18) Resolution!
19) Obstruction
20) Right before the plunge
21) Open final battle
22) Win back
23) Mariel in the capsule
24) A smile
25) Peaceful everyday
26) Mariel's piano
27) Voice of heart (On Air Version)
28) We'll Serve You! (On Air Version)