NOTICE
Holiday Schedule
| | |
| --- | --- |
| July 4, 2018 | AAA Anime Inc. will be CLOSED on Wednesday in observance of Independence Day. |
Appleseed XIII: Tartaros & Ouranos (DVD) (DVDs)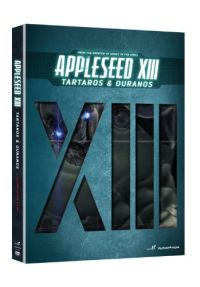 Manufacturer: FUNimation
Item Code: FN09127
UPC: 704400091278
S.R.P.: $29.98
Request this item from your local retailer!

Following a world war that killed half the world's population, the city-nation of Olympus stands as a beacon of hope in a world of chaos and conflict. The utopian metropolis is governed by Gaia, a vast artificial intelligence, and administered by a genetically engineered humanoids known as Bioroids. Although Olympus seems like a peaceful city on the surface, racial (human vs. bioroids vs. cyborgs), religious, and political conflicts lurk underneath - threatening to overturn the delicately balanced "peace." Security threats such as terrorists and anti-government criminals abound, so the use of force becomes a necessary evil even in this so-called "utopia."
Tracks