NOTICE
Holiday Schedule
| | |
| --- | --- |
| Nov. 22, 2018 | AAA Anime Inc. will be CLOSED on Thursday in observance of Thanksgiving. |
| Dec. 24, 2018 | AAA Anime Inc. will be CLOSED on Monday for Christmas Eve. |
| Dec. 25, 2018 | AAA Anime Inc. will be CLOSED on Tuesday in observance of Christmas. |
| Jan. 1, 2019 | AAA Anime Inc. will be CLOSED on Tuesday in observance of New Years Day. |
| Dec. 31, 2018 | AAA Anime Inc. will be open for a half day. No outbound shipments are scheduled that day. |
| UPS Holiday Schedule Notes | UPS Guarantee is suspended for all UPS Ground shipments picked up or scheduled for delivery Nov. 26–Dec. 24. |
Exodus Guilty Vol. 1 (Games)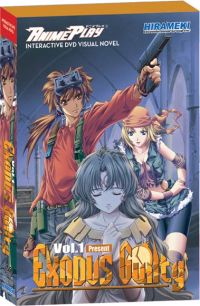 Manufacturer: Hirameki
Item Code: HIAP0008
UPC: 820170100795
S.R.P.: $29.99
Request this item from your local retailer!

The year 2000. Kasumi Shindo is at first glance a run-of-the-mill high school student in modern day Japan. However, beneath his normal appearance, Kasumi is in fact a top-notch treasure hunter.
This time, Kasumi is aiming to find the lost 11th Commandment of Moses. Kasumi discovers that his childhood friend, Reina Tachibana is in southern Europe participating on an archeological dig. Under the guise of being a tourist, he visits the excavation area and finagles himself into helping with the excavation. But he is not the only treasure hunter looking for the Eleventh Commandment of Moses and he gets himself embroiled in a dangerous adventure.
Tracks