Pokemon Adventures: Platinum Vol. 8 (Manga) (Books)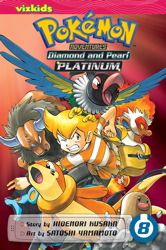 Manufacturer: Viz
Item Code: 1421554046
UPC: 9781421554044
Author: Hidenori Kusaka, Satoshi Yamamoto
S.R.P.: $9.99
Request this item from your local retailer!

All your favorite Pok?mon game characters jump out of the screen into the pages of this action-packed manga!

Reads R to L (Japanese Style) for all ages.
Tracks