Dragon Ball Vol. 10 (2nd edition) (Manga) (Books)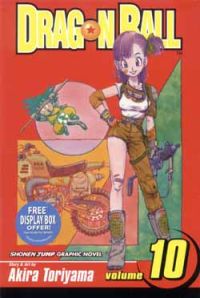 Manufacturer: Viz
Item Code: 1569319294
UPC: 9781569319291
Author: Akira Toriyama
S.R.P.: $9.99
Request this item from your local retailer!

CRANE VS. TURTLE!
After finally finding the seven Dragon Balls, Goku and his friends go their separate ways, promising to meet again in three years--at the 22nd Tenka'ichi Budokai martial arts tournament! But Yamcha, Kuririn, Goku and Kame-Sen'nin won't be able to breeze through the tournament this time, because their opponents are Tenshinhan and Chaozu, the mysterious disciples of Tsuru-Sen'nin, the "Crane Hermit", Kame-Sen'nin's old rival! Will Crane style kung fu beat Turtle style?
Format: b&w, 192 pages
DRAGON BALL ©1984 by BIRD STUDIO/SHUEISHA Inc.
Tracks