NOTICE
Novel Corona 2020
| | |
| --- | --- |
| May 31, 2021 | AAA Anime Inc. will be CLOSED on Monday in observance of Memorial Day. |
| July 5, 2021 | AAA Anime Inc. will be CLOSED on Monday observance of Independence Day. |
Dragon Ball Z Vol. 5 (2nd edition) (Manga) (Books)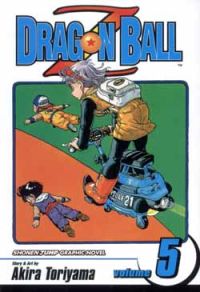 Manufacturer: Viz
Item Code: 1569319340
UPC: 9781569319345
Author: Akira Toriyama
S.R.P.: $9.99
Request this item from your local retailer!

In the aftermath of his titanic battle with Goku, Vegeta retreats from Earth, vowing revenge. In search of a way to resurrect their dead friends, Kuririn, Gohan, and Bulma repair an ancient alien spaceship and go into space in search of Namek-- Piccolo's home planet where the wish-granting Dragon Balls were originally made. But Namek has become a battleground, where evil emperor Freeza and his minions are slaughtering the peaceful Namekians to fulfill Freeza's wish for immortality! Stranded on a planet full of enemies, the three astronauts radio back to Earth begging for a hospitalized Goku to come to their aid--but "help" comes from an unexpected source as Vegeta, now stronger than ever, turns against his former master Freeza in order to get the Dragon Balls for himself. But are Vegeta's intentions any less evil than Freeza's?
B&w, 184 pages
DRAGON BALL ©1984 by BIRD STUDIO/SHUEISHA Inc.
Tracks