NOTICE
Novel Corona 2020
| | |
| --- | --- |
| May 31, 2021 | AAA Anime Inc. will be CLOSED on Monday in observance of Memorial Day. |
| July 5, 2021 | AAA Anime Inc. will be CLOSED on Monday observance of Independence Day. |
Dragon Ball Z Vol. 6 (2nd edition) (Manga) (Books)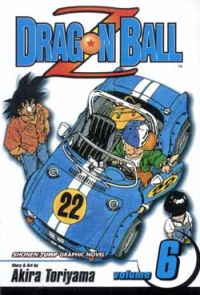 Manufacturer: Viz
Item Code: 1569319359
UPC: 9781569319352
Author: Akira Toriyama
S.R.P.: $9.99
Request this item from your local retailer!

BATTLEFIELD NAMEK
IN THIS VOLUME:
Freeza and his minions continue their ruthless search for Planet Namek's Dragon Ball, leaving not a single Namekian alive in their wake! When Kuririn and Gohan attempt a daring rescue of a Namekian child, they become involved in a deadly game of hide-and-seek with the murderous Dodoria.

But after escaping one alien brute, Kuririn and Gohan discover they've got another to deal with-Vegeta! The Saiyan they never wanted to see again is back, and like Freeza he too is searching for the Namekian Dragon Balls in a mad quest for immortality. Will Goku make it to Namek in time? And even if he does, can he possible stop both Freeza and Vegeta before either of their ambitions are realized?

This graphic novel collects Dragon Ball Z Vol. 3 #7 through Vol. 4 #2.

b&w, 192 pages
DRAGON BALL ©1984 by BIRD STUDIO/SHUEISHA Inc.
Tracks