NOTICE
Novel Corona 2020
| | |
| --- | --- |
| May 31, 2021 | AAA Anime Inc. will be CLOSED on Monday in observance of Memorial Day. |
| July 5, 2021 | AAA Anime Inc. will be CLOSED on Monday observance of Independence Day. |
Dragon Ball Z Vol. 9 (2nd edition) (Manga) (Books)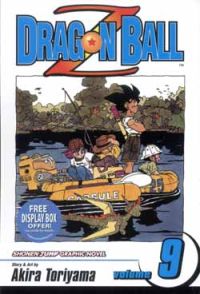 Manufacturer: Viz
Item Code: 1569319383
UPC: 9781569319383
Author: Akira Toriyama
S.R.P.: $9.99
Request this item from your local retailer!

Goku and Captain Ginyu -- trapped in each other's bodies due to Ginyu's mind-swapping powers -- fight it out to the end! Then, Kuririn and Gohan use the Dragon Balls to summon the true Eternal Dragon and wish Piccolo back to life. But the evil emperor Freeza has discovered how they tricked him to get the Dragon Balls, and rushes across the planet to punish the fools who stole his wish! Together, Kuririn, Gohan, and Vegeta (and Piccolo??!) must fight Freeza, the deadliest fighter in the galaxy!
DRAGON BALL ©1984 by BIRD STUDIO/SHUEISHA Inc.
Tracks