Dragon Ball Vol. 16 (Manga) (Books)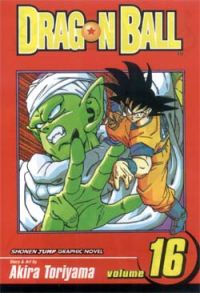 Manufacturer: Viz
Item Code: 1591164575
UPC: 9781591164579
Author: Akira Toriyama
S.R.P.: $9.99
Request this item from your local retailer!

As the "Strongest Under the Heavens" martial arts tournament draws to a close, only Goku, Piccolo and Shen - the disguised Kami-sama - remain! But even a god is no match for Piccolo's new powers, and soon Goku finds himself fighting alone in a battle, which will decide not just who is the strongest, but who or what will rule the world! The audience flees for their lives as the struggle shakes the heavens apart in the gripping conclusion of Akira Toriyama's Dragon Ball!
DRAGON BALL ©1984 by BIRD STUDIO/SHUEISHA Inc.