NOTICE
Novel Corona 2020
| | |
| --- | --- |
| May 31, 2021 | AAA Anime Inc. will be CLOSED on Monday in observance of Memorial Day. |
| July 5, 2021 | AAA Anime Inc. will be CLOSED on Monday observance of Independence Day. |
Dragon Ball Z Vol. 20 (Manga) (Books)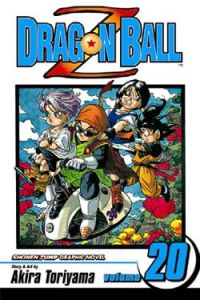 Manufacturer: Viz
Item Code: 1591168082
UPC: 9781591168089
Author: Akira Toriyama
S.R.P.: $9.99
Request this item from your local retailer!

DRAGON BALL Z fast-forwards into the future! Years after the battle with Cell, the Earth has forgotten about the existence of the super warriors, and Gohan is living the life of a mild-mannered high school student. Mild-mannered until evilstrikes... and the world needs the power of the Great Saiyaman! As Gohan's high school classmates ponder the similarity between their classmate and the masked crimefighter, two even stronger warriors prepare to make their namesknown. Their names are Goten and Trunks, and though they're not even out of elementary school, they may be the toughest things on the planet. But off the planet, in the Other World, Goku has achieved a level of power that matcheseven the gods--and the "Strongest Under the Heavens" fighting tournament gives him a chance to return to earth and show his strength!
DRAGON BALL ©1984 by BIRD STUDIO/SHUEISHA Inc.
Tracks